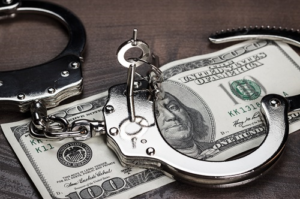 Imagine this: It's 4:00 in the morning & you get a call from the Alachua Florida County Jail. On the other end of the line is your best friend, he was arrested the previous night & needs you to bail him out.  You have work in a couple of hours, & there are more days left till your next pay check than there is money. Do you post bail for your friend or not? While for some people the decision to bail a friend or family member out of jail might be an easy one, for others it's not so easy to make that decision.
While we know that every situation is different for everyone, the fact remains that your friend is still sitting in jail & needs bail posted. Some might feel guilty that they can't afford to post bail, while others might feel obligated because their friend helped them out in the past. Regardless of the situation it is perfectly acceptable to question whether you can afford to bail someone out of jail or not.
Can You afford to bail them out?
At Lee Calhoun Bail Bonds, we have seen many family member & friends struggle over the question of whether they can afford to post bail or not. While a bail bonds Gainesville Florida can ease, the financial burden associated with posting bail, there is still a fee that must be paid that the family member or friend will have to come up with to cover the cost of the bail bondsmen. At Lee Calhoun Bail Bonds, our fee is a flat 10% for posting bail.
The Bond Process
Lee Calhoun Bail Bonds is a professional, licensed bond agency with over 15 years of Florida bail bonds experience. We work with all our clients to ensure a timely release, while taking the time to fully explain the process.
Once an individual is taken into custody & booked into jail, depending on the alleged crime, the individual may be permitted to post bail immediately, while others will have to appear before a judge. A bail hearing before a judge usually takes place less than 48 hours after arrest, & the bail amount is set during the hearing. Once bail has been set, contact Lee Calhoun Bail Bonds to arrange for bail to be posted on the individual's behalf.
There are a few things to be aware of when arranging for a Florida bail bonds agency to post bail;
You are entering into a contract with the bail bond agency—agreeing that you will pay 10% of the bail amount to the bail bond agency. This amount is the fee that you are paying the bond agency to cover the full amount of the bond. Once this amount has been paid, or other payment arrangements have been made & agreed to by both parties, the bail bond agency will then post the bond with the court.
There when you need us
Nobody ever expects the need to hire a bail bondsmen; & while this is true for most, the unfortunate does happen when you find yourself or someone you love needing a bail bonds Gainesville Florida. When you find, yourself needing a Florida bail bonds contact Lee Calhoun today! With over 15 years of experience we know that sometimes people make mistakes, & that bad things happen to good people. Trust Lee Calhoun to make your or your loved ones timely release his priority!