Fall of 2014, J.C. Jackson was a young college athlete who signed on as a cornerback for the University of Florida. However, this was a short-lived career for Jackson. Things took a turn for the worse this past Sunday (April 19th, 2015) as the 19-year old freshman was involved in an armed robbery. While he was not alone, he was the only individual named in the report & will face the greatest punishment – removal from the Gators.
Jackson was a talented athlete from Immokalee, FL. His coa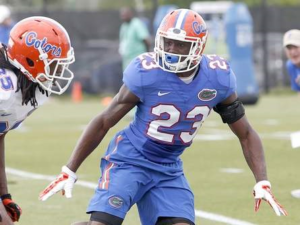 ches were hoping for the best after he signed on with the team that he would stay on the right track. Immokalee is known for having a high crime rate. Jackson's coach, Dombrowski stated that since he was able to break out of Immokalee & make it into the University they were all hoping he would be destined for greatness. Dombrowski comments, "He was by far the best athlete I've ever been around as a coach, but now [he's a] complete waste of talent, in my opinion, but I'm not shocked" (Naples Paper).
Unfortunately, the reason Dombrowski is most likely "not shocked" is because armed robbery is a fairly common occurrence in the Gainesville area. In fact there were over 155 VIOLENT robberies last year alone. That is an average of 1.22 in every 1,000 persons, which is well above the national average of 1.09 in every 1,000 persons. There were even 6 reported murders – also well above the national average. Property crime alone topped over 4,417 reported cases of theft last year. The average individual's chances of being a victim of one of these crimes are 1 in 155 – highly likely.
In the case of Jackson, he was held on a bail of $150,000. The amount was determined based on his three counts of robbery with a deadly weapon in the amount of $50,000 for each count. He was able to locate a Gainesville bondsman & post bail from the Alachua County Jail on Sunday, April 21st.