Benjamin C. Rosenshein from Gainesville, FL was jailed on Thursday April 30th, after he was accused of harassing his ex-girlfriend & smashing a window in her home.
32 year old Benjamin C Rosenshein was angry his ex-girlfriend did not reply with a thank you for flowers that he had left on her front door while she was at work; they had ended a 3 year relationship. The Gainesville Police Department states Rosenshein, in his anger sent 30 texts & made phone calls expressing his fury.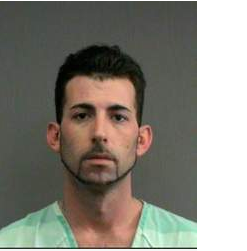 The police report states that during his state of rage he visited his ex-girlfriend again & tore a screen door from its hinges. He later decided to return but with a new screen door. He ordered his ex-girlfriend to exit her house, but she feared for her safety & refused.
Her refusal made Rosenshein even angrier & he proceeded to bend a screen from a window & then used his fist to shatter the glass all the while screaming obscenities toward his ex-girlfriend & he repeatedly told her he would kill himself. His ex-girlfriend told him to leave her property.
Rosenshein has allegedly been stalking his ex-girlfriend for at least two years & has previously threatened to kill her & her young son. These stalking incidents have led to two arrests, according to court records from Alachua County, but he has not been convicted. The arrest occurred in August of 2013 & July of 2014. As of May 1st he was in county jail custody in lieu of a $125,000 bond. It is not known if he plans to speak with a & post bail.